Graphite powder has high industrial value and good economic prospects, so it is one of the main projects that many users and friends are rushing to invest. So what are the equipment for
graphite processing plant
? Users who pre-invested in this project will have to choose the right equipment first for better development. Xiaobian here briefly introduces the complete set of graphite powder production line equipment.
1.Jaw crusher
Jaw crusher
is the main equipment for the preliminary crushing processing of large graphite raw ore. Its simple structure design, flexible and convenient operation, high efficiency, more environmentally friendly, pollution-free, large output, adjustable output particle size, Excellent quality and long life.
2.Raymond mill
Raymond mill
, as one of the core equipment for the production of graphite powder, has undergone continuous technological innovation, and currently has more prominent advantages than traditional milling equipment.
a. The three-dimensional structure saves 45% of the land compared with the traditional horizontal mill, and the equipment is strong in complete sets, and the basic investment can save 2-3 million yuan;
b. Many models, large output, uniform fineness of fine powder output, good quality, and high pass rate;
c. Design of electrical centralized control system, which can realize unmanned operation and make daily maintenance more convenient;
d. The structure design is reasonable, the workmanship and material selection are more ingenious, the quality of the equipment is excellent, and the service life is extended by about 45% compared with the old mill.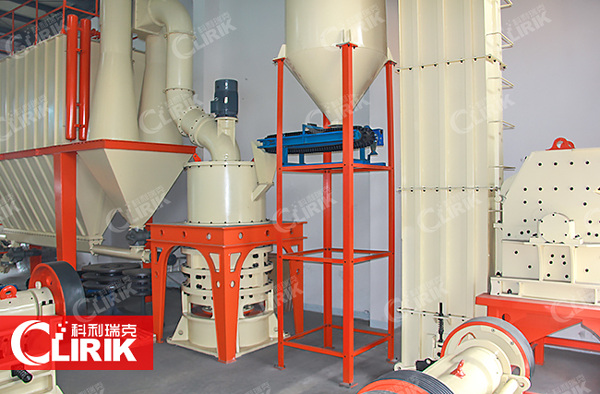 3. Bucket elevator
The
bucket elevator
is used to transport the crushed stone to the feeder evenly from the bottom to the top to facilitate the better feeding of the graphite crushed material into the host. It has a small driving power, a wide lifting range, reliable operation, Long life and large capacity.
4.Electromagnetic feeder
Electromagnetic feeder
is a kind of feeding equipment specially used for graphite grinding powder production line. It can feed graphite material into the host machine uniformly, continuously and quantitatively. It has a small footprint, low noise, more power saving, Light weight, easy installation and other highlights.
How to choose
graphite processing plant
equipment? Clirik machine manufacturers are waiting for you to choose a complete set of production line equipment. Crushers, mills, complete types, a wide range of models, excellent quality, and favorable prices. At the same time, enterprise engineers tailor-made graphite powder production line solutions for users. Welcome interested friends at any time for free Online consultation.