The global calcite and chalk resources are abundant, and the high-quality calcite and chalk resources with a CaCO3 content of not less than 97% are also relatively large. Therefore, the industry generally does not perform mechanical beneficiation and processing of calcite, only simple ore washing and hand selection.
At present, the processing of calcite and chalk is mainly crushing, grinding and surface modification to process heavy calcium carbonate products that meet the fineness requirements of the application field.
Today, CLIRIK will share with you 3 typical heavy calcium carbonate (dry method) industrial grinding plants.
Heavy calcium carbonate dry grinding plants
Dry process is generally used to produce products with d97≥3-5μm. The crushing equipment mainly includes Raymond mill, superfine mill, vertical mill, suspension roller mill, ball mill, stirring mill, vibration mill, roller mill and various mechanical shocks. Type mill.
1. Raymond mill is used to produce 38-74μm (200-400 mesh) products in large quantities. After modification and configuration of a fine classifier, it is also used to produce fine powder with d97=30-15μm (500-800 mesh);
2. 21/24/28/32 roller ultrafine grinding mill is used to produce 74-5 (150-3000 mesh) products, D97<5μm, D50<3μm, high fine powder content, good powder quality;
3. Ultra-fine vertical mill is suitable for the production of 400-3000 mesh calcium carbonate, D97<4μm, D50<2μm, characterized by high whiteness, good sphericity and high efficiency.
4. Ball mill is the main equipment of the large-scale heavy calcium carbonate production line. After configuring various classifiers, it is used to produce heavy calcium carbonate products with d97=5μm, 10μm, 16μm, 45μm, etc.;
5. Vibration mill with fine grading equipment is mainly used to produce products with d97=5μm, 10μm, 16μm, but its stand-alone production capacity is not as good as ball mills;
6. Mechanical impact mill has simple process, but low output, mainly used in small and medium-sized heavy calcium carbonate production plants;
7. Dry mixing mills are used in large-scale heavy calcium carbonate production plants in Europe.
1. Production line of heavy calcium carbonate ball mill with an annual output of 70,000 tons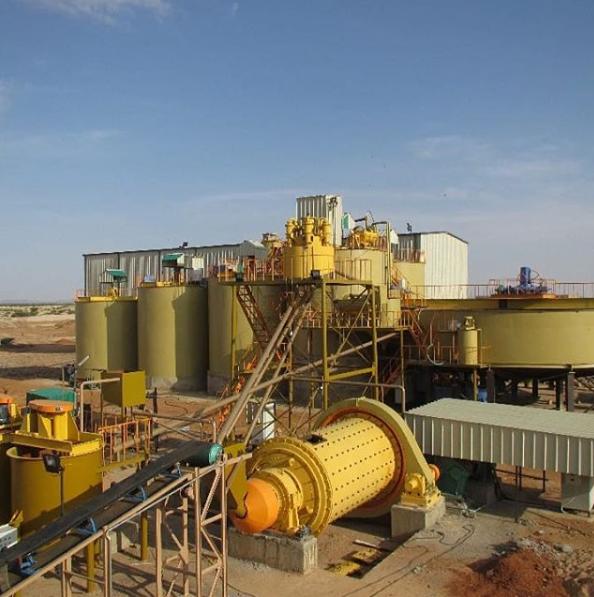 The key indicators of the process are as follows:
The raw material particle size is not more than 8mm;
Product specifications and output: d97≤5μm 12,000 tons/year, d97≤10μm 18,000 tons/year, d97≤45μm 40,000 tons/year;
The installed power is about 1730kW;
Compressed air pressure 600kPa, air consumption m3/min;
17m3/h of circulating cooling water.
2. Heavy calcium carbonate ultrafine grinding mill production line
This process mainly produces ultrafine heavy calcium carbonate used as fillers for polymer-based composite materials such as plastics and rubber. The entire production line consists of
raw material crushing, ultrafine grinding mill, classifier, powder collector, dust cleaner, blower, muffler,
sound-proof room, crusher, bucket elevator, storage hopper, vibrating feeder and powder surface coating machine.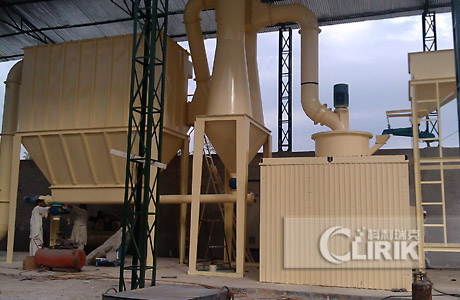 The fineness of the product can be adjusted between 3-74 μm. When the final product does not require surface treatment, it does not need to go through powder surface coating machine.
3. Dry vibration mill heavy calcium carbonate production line
After the raw materials are pre-crushed, they are transported to the raw material silo by the bucket elevator; the raw materials are fed into the vibrating mill by a frequency conversion speed-regulating belt scale for grinding, and at the same time, modifiers are injected into the upper and lower cylinders of the vibrating mill; after grinding by the vibrating mill The latter mineral powder is transported to the air classifier under negative pressure for classification, and the coarse powder is sent to the vibrating mill through the metering screw conveyor to the lower tube mill for re-grinding. The measurement result is fed back to the computer control system to adjust the feeding of the frequency conversion speed control belt scale. The fine powder enters the cyclone separator to separate the finished product 1; the finer powder enters the bag filter and is collected as the finished product 2.
The raw material particle size of this process is less than 200mm; the fineness of product 1 is d97=10-16μm; the fineness of product 2 is d97=2-5μm; the output is 750-1500kg/h.
Who we are?

CLIRIK has a first-class manufacturing base with standardized and intelligent production lines.
CLIRIK's professional R&D, sales, installation and after-sales teams have provided door-to-door services to more than 100 countries and regions.
Which models can be selected for processing ultra-fine powder?

HGM grinding mill: 74-5 micron(200-2500 mesh); D97=5 micron
YGM Raymond mill: 613-33 micron(30-325 mesh); D90=30 micron
CLUM vertical roller mill: 20-5 micron(600-3000 mesh); D50=2 micron D97=4 micron
How to get the latest quotation?

You can leave a message online or contact CLIRIK directly:
Email: sales@clirik.com
WhatsApp: +8613512155195/+8613917147829