Feldspar grinding plant,Feldspar processing plant,Feldspar production line
Introduction of Feldspars
Feldspars are a group of rock-forming tectosilicate minerals which make up as much as 60% of the Earth's crust.Feldspars crystallize from magma in both intrusive and extrusive igneous rocks, as veins, and are also present in many types of metamorphic rock.Rock formed almost entirely of calcic plagioclase feldspar (see below) is known as anorthosite.Feldspars are also found in many types of sedimentary rock.
Feldspar powder application
>Feldspar powder is mainly used in the plastics, ceramics, enamel, white cement, abrasives industries. Feldspar powder production line supplies powders less than 200 mesh for these industries.
Feldspar processing plant, Feldspar powder making equopment:
In feldspar mining process, crushing mahcine and grinding machine is essential process. In crushing process, feldspar is crushed by jaw crusher, cone crusher, impact crusher and so on. In grinding process, ball mill, Raymond mill, ultrafine mill is the most widely used feldspar grinding mill.
The primary crushing: PEW jaw crusher, play the role as priamry crushing process;
The secondary crushing: PE jaw crusher, PF impact crusher, PFW hydraulic impact crusher, play the role as coarse crushing process;
The fineness crushing: HP hydraulic cone crusher, play the role as tertiary crushing.
The grinding mill: ball mill, raymond mill, ultrafine mill, play the role as powder making equipment.
feldspar includes potash feldspar, anorthite, albite, and celsian. These feldspar are crushed into small particles less than 6 mm for further processing by crusher machine. In the feldspar mine quarry, we usually crush feldspar mine into 40-80 mesh, 80-120 mesh, or more than 120 mesh. Small jaw crusher and cone crusher is the most widely used machine in feldspar quarry plant.
Feldspar crushing plant consists of primary crusher, secondary crusher, vibrating feeder, vibrating screen and belt conveyor.
CLIRIK stationary feldspar crushing plant consists of primary crushing, secondary crushing to fineness crushing.
Big size feldspar are transferred to primary crusher through vibrating feeder from hopper for primary crushing, then the crushed materials are transferred to Impact Crusher or Cone Crusher through belt conveyor for secondary crushing. The crushed feldspar rock will be transferred to the vibrating screen, and separated to different sizes. The final crushed feldspar with suitable size will be transferred to the final product pile and feldspar with unsuitable size will be transferred to the secondary crusher for re-crushing. This forms a closed and manifold cycles. The sizes of final feldspar products will be graded and separated according to customers' requirements, and the duster will be attached for the sake of environment protection.
Feldspar grinding mill is the suitable machine to be used in Feldspar mining industry. As a professional mining equipments manufacturer in China, we can supply perfect Feldspar processing solution for grinding Carbon black. According to customer's specific requirements, we can choose Feldspar Raymond mill (Raymond roller Feldspar mill), high pressure suspension grinding mill, Feldspar micro powder grinding mill equipments in the grinding production line.

Feldspar Processing procedure
Truck carries Feldspar ore from the mine to the mill where it is crushed. Firstly, the Feldspar will be primary crushed by jaw crusher. Then the coarse Feldspar will be entered the Raymond roller mill for power processing by the belt conveyor. After being crushed at the mill, the ore is processed at the jig plant, where it is agitated and washed, allowing the heavier Feldspar concentrates to sink, while lighter waste rock is separated.
Feldspar mine raw ores → Feldspar crushing → screening → Feldspar grinding → jigging → concentrate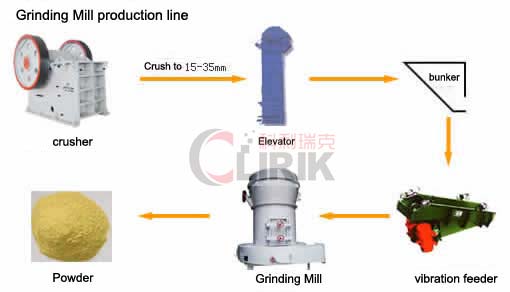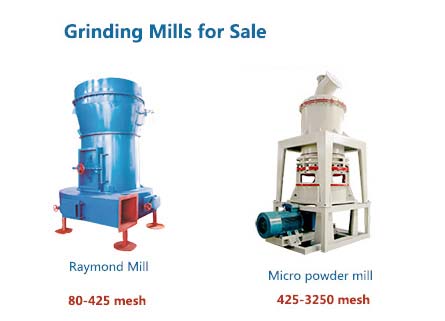 Raymond mill is the common Feldspar grinding mill, it can grind Feldspar into powder with size of 30 - 425 mesh. It is ensured that the grinded power quality is the international level. The advantages of Feldspar Raymond mill are high output, fine powder, continuous powder production with dry method, centralized particle size distribution, continuous and adjustable fineness, low energy consumption, high efficiency, low power consumption, small covered area, easy installation and maintenance as well as reliable operation etc
The Feldspar Micro powder grinding mill is for super-fine grinding materials with hardness less than 6 in Moh's scale and humidity less than 6 percent such as kaolin, limestone, calcite, marble,talcum, Feldspar , gypsum, dolomite, bentonite mud,mica, pyrophyllite, sepiolite, diatomite, graphite, alunite, fluorite, potassium feldspar, phosphorite, pigment and so on. The granularity of the end products is 325-2500 meshes (0.044-0.0055mm).

If you want to know the Feldspar processing plant or have any questions about Feldspar processing plant,please do not hesitate to contact us.
Phone: 0086-21-20236178
Contact person:Jessie Zhao
E-mail: sales@clirik.com