Introduction of HGM Powder Processing Plant
In recent years, the
powder processing plant
has been used more and more widely. Not just because the powerful functionality of the powder processing plant, but also there are many advantages the powder processing plant has. It is worth mentioning that the
powder processing plant
is easy to use. Today, Clirik will share the work principle of powder processing plant with you.
The first step, after crushed by hammer crusher, the large materials become smaller pieces and are sent to the micro powder grinding mill
And next, when the micro powder grinding mill is at work. The granulated materials are crushed and grinded by the rollers into particles below 47micron
And then, the high-pressure air blower constantly inhales air within the micro powder grinding mill
After the above process, is the fourth steps, along with the high speed airflow, micronized materials are brought to the classifier
And then, the qualified particles are screened and driven into the cyclone powder collector, finally exit from the discharging valve at the bottom
Finally, a small proportion of the fine powders, with airflow, moving to the dust cleaner. Filtered clean air will be emitted from the air outlet of the muffler in the end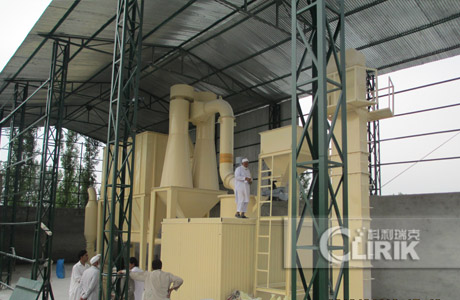 Above is the whole process of the
powder processing plant
, we will use many machines when we produce stone powder, so if we want to get the high quality stone powder, it is very difficult. Shanghai Clirik Machinery is a professional manufacturer of plant processing plant. If you want to buy the high quality powder processing plant, maybe we will be the best choice for you. If you are interested in our products or want to know more details about our products. Welcome all the friends' inquiry on our website or you can come to our company to visit.