PE Jaw Crusher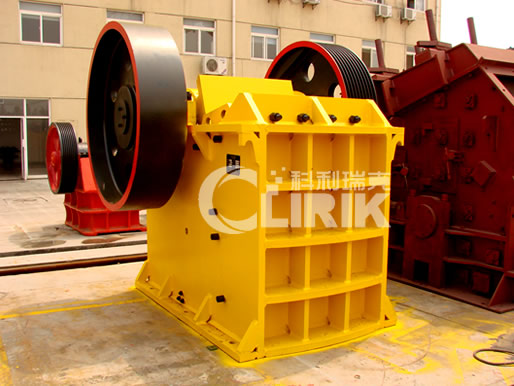 Product description of PE series deep cavity jaw crusher
PE series deep cavity jaw crusher have features of big crushing ratio, uniform products size, simple structure, reliable work, easy maintenance and low cost. It is widely used in stone mining, metallurgy industry, building material, highway, railway, water conservancy and chemical industries. Various materials with compression resistance less than 320MPa can be crushed.

Working principle of PE series deep cavity jaw crusher
Jaw crusher's working type is of moving and squeezing. The working principle is as follows: jaw crusher uses motor as its powder. Through the motor's wheels, the eccentric shaft is driven by the triangle belt and slot wheel to make the movable jaw plate move by a regulated track. Therefore, the materials in the crushing cavity composed of fixed jaw plate, movable jaw plate and side-lee board can be crushed and discharged through the discharging opening.
Advantages and features of PE series deep cavity jaw crusher
1.

High crushing ratio, uniform particle size
2.

Point eclipse discharge opening adjustment device, reliable and easy to adjust the range to meet the needs of different customers.
3.

Safe and reliable lubrication system, easy to replace parts, low maintenance workload.
4.

Simple structure, reliable function, low operating cost.
Main technical parameters of PE series deep cavity jaw crusher
Type

Opening Size
(mm)

Max. Feed Size
(mm)

Output Open Range
(mm)

Power
(KW)

Capacity
(t/h)

Size(mm)

Weight(t)

PE-250×400

PE-400×600

PE-500×750

PE-600×900

PE-750×1060

PE-900×1200

PE-1000×1200

PE-1200×1500