Calcium Carbonate Vertical Roller Mill Plant
Vertical roller mill plant
also be called vertical mill plant is one of the common use stone powder grinding plants, compare with other mining use plants, there are many advantages the vertical roller mill plant has, for example, a smaller cover areas, higher efficient, including high fineness and capacity and so on. Especially when the vertical roller mill use in calcium carbonate powder grinding, there are more advantages appear.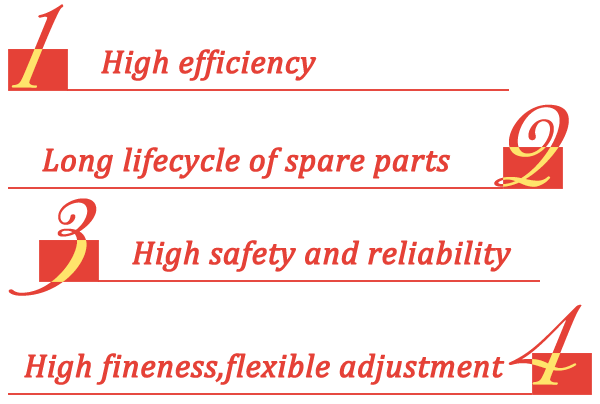 1. High grinding efficiency: save 20~30% power consumption compared with the ball mill. With the increasing of moisture content, it can save more and more electricity.
2. Strong drying capacity: dry and grind calcium carbonate with moisture content as much as 15%.
3. Mutifunction: crushing, drying, grinding, separating and conveying.
4. Low noises and little dust: no direct contact between the grinding rollers and grinding disc, so metallic impact is avoided and its noises is 20~25 decibels lower. Totally closed negative pressure operation has employed by this vertical roller mill plant, so there is no dust during the operation.
5.Low wear rate and little metallic pollution: its metal wear after a long term of calcium carbonate powder grinding is only 5~10g/t.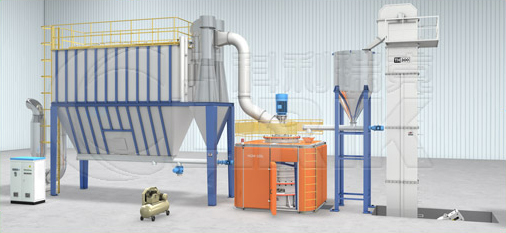 Above all are the advantages of the
vertical roller mill plant
when it was used in calcium carbonate powder grinding. However, the most advantage of calcium carbonate vertical roller mill plant is about it's working principle.
When the larger size calcium carbonate lumps are released and transmitted by the feeding belt conveyor from the raw material hopper, with the weight of the materials being controlled by the belt scale and the tramp iron in the materials being removed by the iron remover. Subsequently, the materials are sent to the elevator, via the air lock valve and screw conveyor, into the mill interior for pulverization. After pulverization, the qualified powder separated from the powder classifier is transmitted into the tank-type pulse dust collector, then after the screw conveyor and discharge valve they are transported to the final product hopper, packed ans sold directly.